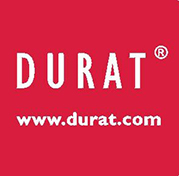 Durat is a unique, ecological solid surface material that contains recycled post-industrial plastics and is 100% recyclable.
Durat can be used to create seamless surfaces of any custom project.
Easy maintenance and hard-wearing properties make it an ideal material for various kinds of interiors, such as bathrooms, kitchens and public spaces.
Durat also offers a wide range of exclusive design products ranging from bathtubs, sinks and shower trays to stools and tables.
GREEN PRODUCT
Durat solid surface material contains 30% recycled content and is 100% recyclable.
Durat sheets are 114.17″ x 31.5″ x .47″
Printed colors and speck sizes are only representations.  Please call for a physical sample
Custom colors are available at no additional charge.
DURAT PRODUCTS ARE NOT STOCKED. INQUIRE FOR AVAILABILITY